About Koide Cymbals
The Koide Cymbal Factory is located in Osaka and is the only cymbal maker in the whole of Japan. The Koide Cymbal Factory has cultivated years of experience in metal processing techniques. This has ensured that every Koide Cymbal is made to create the purest and smoothest of tones possible. Each cymbal is full of character and rich in sound.
In 1947, Toshio Koide's father and two brothers opened a metal processing facility. For a brief period during the 1960's, they produced entry-level cymbals and later began fabricating kettles for orchestral timpani, which they continued for 23 years.
In 1998, Toshio decided to return to cymbal-making, using readily available B8 bronze. Toshio started Koide Cymbals' first production made cymbal line in 2003. Shortly thereafter, he began utilizing Turkish made B20 blanks and traditional cymbal-making practices.
As he developed his understanding of standard cymbal fabrication and the qualities of the B20 alloy, he decided to expand on his understanding of cymbal metallurgy and the physics of cymbal sound characteristics. Toshio found guidance from such noted facilities as Research Institute for Applied Sciences, Industrial Technology Center of Fukui Perfecture, University of Fukui, and Osaka Alloying Works Company Ltd.
This extensive research led to new alloys and production techniques – and new cymbal sounds.
Koide Cymbals are distinctive, the results of primarily B23ZT and B21ZFe, which are Koide's patented alloys of Zirconium, Titanium, Iron, and higher Tin to Copper ratios.
Each cymbal series is manufactured by methods specific to that series, so each series has unique and distinctly different qualities. Koide still uses his own B20 alloy and traditional hammering methods for his more Turkish sounding 703 cymbal line as well.
All of Koide's cymbal blank material is specially produced in Japan for Koide Cymbal Co. by a foundry that specializes in copper-based alloys using highly sophisticated processing techniques to manufacture his proprietary alloys.
Click the picture to watch a short film about the manufactoring process at the Koide Cymbal Factory!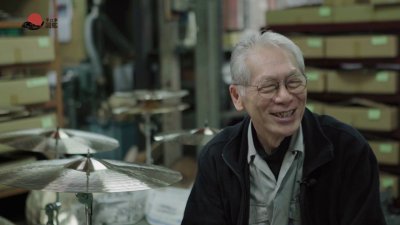 How a cymbal is made: CLICK HERE!