SVENSKA Klicka här!
As with the 703´s, the 10J cymbals are made from Koide's B20 alloy and with contemporary sound at the core of its design. The 10J cymbal range expand the even greater tonal possibilities of the 703 series, and 10J can be used in all musical genres.
The main difference between the two lines is the fabrication process. 10J's are produced to allow for more overall consistency in each cymbal but with the vintage vibe and warmth of 703´s. Think of the 10J as the production version of the 703 – not quite as complex, but maybe a little more versatile and conventional in sound characteristics. Despite the larger bell, 10J is manufactured in a way the keeps the cost down.
The sound feels familiar and ranges somewhere in between Zildjian´s A and K series. They are warmer than A and sounds more like K, but are not quite as complex as K.
Full, integrated bell, articulated sound, and just enough wash, more ting than ping. These B20 cymbals can be fully compared to classic vintage cymbals from the 50´s and 60´s.
Most drummers feel right at home with the 10J series. These cymbals are the time tested, tried-and-true workhorse style of cymbal that will provide you with a classic sound and feel that works in most all musical situations. 10J's possess a great dynamic range, a responsive feel, and a familiarity in sound that will be a go-to cymbal for working musicians that need to cover a wide range of styles.
Weights are in grams (approximate)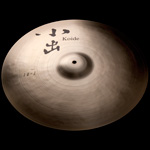 RIDE
   Solid sound, fusing sharp and dark ping tones together
   with a warm sustain. Great variation possibilities when
   played with tip of the stick.

A very versatile series that is suitable for jazz to pop. A little dark, a little complex, wide tonal range and great projection. Responsive bow and strong bell. SOUND CLIP  VIDEO


An excellent all around choice for jazz to pop. A little dark and complex but bright enough to project without loosing the stick on top. SOUND CLIP


Excellent left side crash ride for jazz and rock. Very versatile. A personal favorite of mine. SOUND CLIP  VIDEO


Crash Ride. 1500 g SOUND CLIP  VIDEO




Hi-hats



Slightly thicker construction successfully combines flexibility
with sharpness. The graininess of the chic sounds is distinctive,
enabling for greater expressive Hi-Hat work, similar Hi-Hat
thickness to the 703 series.

 Hi-hats that are perfect for jazz and pop/rock warm and moderately complex, a bit vintage. (1050g/1250g) SOUND CLIP


Thin top + Medium bottom. Warm vintage vibe, great all around hi-hats. (840g/1108g) SOUND CLIP
Drum solo with the 10J series SOUND CLIP Cymbals used: Rides 22" / 20" / 18" / Hi-hats 14"
VIDEO of 10J and 703 series
Modern Drummer Magazine August 2020 review of Koide Cymbals
Modern Drummer Magazine podcast October 2020 about Koide Cymbals. It begins at ca 00:40.