The BRIL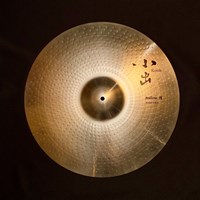 LIANT cymbal is made with the
patented and very unique B23ZT alloy
and an over-hammering process.
Obviously, the high tin content brings a very
high stiffness and thus "brilliance" to the sound,
but the Zirconium and Titanium add malleability
and durability the metal needs during production
and use.
The BRILLIANT cymbals all have enhanced upper frequencies that produce a very bright and shimmery sound. None are harsh, and all sizes have a sweetness to the shimmer in the wash when crashed.
The surface tension is very high when compared to B20 cymbals and they aren't as bendable when flexed. The BRILLIANT line opens up very easily and quickly when crashed and has fast stick rebound due to this added stiffness.
Sweetness and presence are the strongest characteristics of the BRILLIANT series – plenty of cut, clean, fast response, shimmer, brightness without harshness, and a medium to long sustain.
The medium and larger crashes imply a sizzle quality to their sound and are very responsive. BRILLIANT cymbals make an excellent choice for pop, rock and fusion music; they have a unique feel under the stick when played and don't require big hits to get a big response.
Many players comment on how the weight-to-sound ratio is very different from B20 in the sense that these cymbals play like thicker cymbals but sound like a much thinner cymbal. Like the ABSOLUTE line, the large crashes make for great crash/rides that give a nice lift to the music. 
Weights are in grams (approximate)
Ride
20" Medium Thin. Sweet sparkling ping and crash-able too! Never harsh just sweet!
Great projection. 2150 g SOUND CLIP
20" Medium 2450 g SOUND CLIP
20" Heavy. PING! clean and sweet. Incredible bell and projection without being piercing. 2800 g SOUND CLIP
20" Flat Ride Thin SOUND CLIP VIDEO
22" Medium. Bright clean ping, strong bell. 2900 g SOUND CLIP
22" Medium Heavy. Sweet sounding ping ride, not harsh and very clean. Crystaline! 3150 g SOUND CLIP
CRASH
16" Thin
16" Medium Thin 1050 g SOUND CLIP
16" Medium 1200 g SOUND CLIP
17" Medium Thin. Shimmering crash with long sustain. 1280 g SOUND CLIP
17" Medium. Shimmering crash, long sustain. 1435 gSOUND CLIP
18" Medium Thin. Bright shimmering crash with long sustain. 1424 g SOUND CLIP
18" Medium 1650 g SOUND CLIP
19" Medium Thin. Generous wash with a sparkling crash. Also a nice very smaller sized bright sounding ride. 1750 g SOUND CLIP VIDEO CLIP
19" Medium. Shimmering crash, long sustain. 1887 g SOUND CLIP
 
Hi-hat
14" Thin top/Thin bottom
14" Thin top/Medium bottom 810 g/1118 g SOUND CLIP
14" Thin top/Heavy bottom 850 g/1315 g SOUND CLIP
14" Medium top/Thin bottom
14" Medium top/Medium bottom
14" Medium top/Heavy bottom 1118 g/1315 g SOUND CLIP
14" Heavy top/Thin bottom
14" Heavy top/Medium bottom
14" Heavy top/Heavy bottom
Splash
8" 160 g SOUND CLIP VIDEO
8" Low Bell. 165 g. Nice splash with lower bell profile. SOUND CLIP
10" 270 g SOUND CLIP
Drum solo with Brilliant Series SOUND CLIP Cymbals used: Splash 8", 10"/Hi-Hats 14" Top Medium+Bottom Heavy/Crash 16" Medium Thin, 18" Medium Thin, 19" Medium Thin/Ride 20" Medium