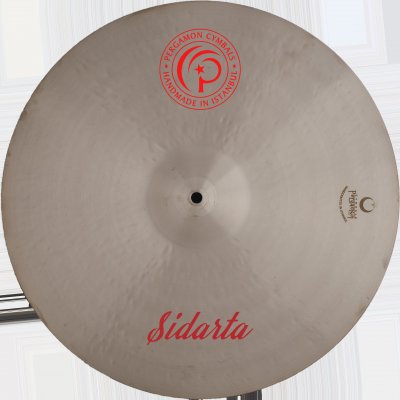 Sidarta series is completely lathed and rigorously hammered by hand. It is the traditional one from Jazz and beyond, which tells its story in modern language. The standard bell is moderate and firm.
The sound is warm, refined, natural, with dark shades that leave a pleasant halo.
The sustain is medium long, the ping varies a lot depending on the type of stick, but in general it remains sweet.
The crash generates slightly invasive medium low frequencies, which make it particularly pleasant in any context, from the small club to the large stage.

VIDEO 14" Hi-Hats comparison 13 different Hi-Hats. Use headphones.
VIDEO 15" and 16" Hi-Hats 13 different models comparison. Use headphones.
VIDEO Sidarts Series 14" Hi-Hats, 16" Crash, 18" Crash, 21 " Ride