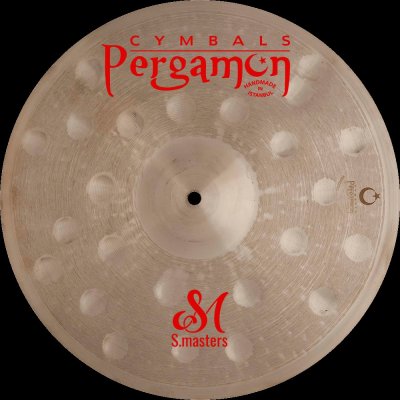 The particular processing in this series, S. Masters series, makes it truly unique in look and sound. The mirror polished bell develops bright and subtle vibrations. A special abrasive treatment creates a glitter effect in contrast with the mirror polished edge and the deep hammering.
The sound is explosive, trashy, sparkling. It opens quickly maintaining a medium long sustain that blends with vibrations similar to riveted cymbals. The ping is crisp with a slight dry hint. It integrates well into any musical situation, enriching every context with its unique and original sound, and it is best appreciated in large live shows.

VIDEO 14" Hi-Hats comparison 13 different Hi-Hats. Use headphones.
VIDEO 15" and 16" Hi-Hats 13 different models comparison. Use headphones.
VIDEO S-Masters Series 14" Hi-hats, 16" Crash, 18"Crash, 20" Ride
VIDEO S-Masters Series 14" Hi-hats, 18" Crash, 19" Crash, 20" Ride