These somewhat thinner cymbals are dedicated to the masters of jazz who prefer the sound of traditional Turkish cymbals. These series are manufactured in the time-honoured manner, using the techniques handed down from father to son, and mercifully not blemished by the vulgar company brand logos - only a modestly sized "M" logo. Jazz Masters has clear stick definitions combined with brilliant overtones, a light attack and a fine warm sustain.
Splash: Paper thin and super-light. Opens up with a quick, flashy attack, and has a clean, warm sustain and a fast but balanced decay. No trace of gonginess, and just enough complexity to prevent a clarly defined pitch. A classic sounding splash!
Hi-hats: The bells are small but pronounced, the bow has a moderately gentle, even slope. A deep, low-pitched tone, but thick enough to provide crisp stick attack and a strong foot chick. The open sound has a dark, complex hiss that can be used to roar like Tony Williams, or it can be controlled easily with varying degrees of foot pressure and playing dynamics for more subtle textures. Great balance of dark, expressive and powerful characteristics.
Ride: Fairly flat and wide bell and a subtly sloped bow. Deep warm tone with balanced and brilliant overtones. Light yet clean attack, and a rich, musical and partially integrated bell sound. Even and balanced decay. When crashed it draws out big, deep and washy tones, while more delicate and expressive tones can be coaxed with ease with lighter strokes on the bell and bow. A rare multi-purpose cymbal that produces a full spectrum of sound at any dynamic
Sound clips:
Jazz Master Crash 14"
Jazz Master Crash 15"
Jazz Master Crash 16"
Jazz Master Crash 17"
Jazz Master Crash 18"
Jazz Master Crash 19"
Jazz Master Hi-hats 13"
Jazz Master Hi-hats 14"
Jazz Master Hi-hats 15"
Jazz Master Ride 20"
Jazz Master Ride 20" Thin
Jazz Master Ride 20" Sizzle
Jazz Master Ride 21"
Jazz Master Ride 22"
Jazz Master Splash 8"
Jazz Master Splash 10"
Jazz Master Splash 11"
Jazz Master Splash 12"
Jazz Master China 16"
Masterwork different Hi-hats comparison VIDEO
Jazz Master VIDEOS
Click pictures to enlarge!

Masterwork Jazz Master Crash

Masterwork Jazz Master Ride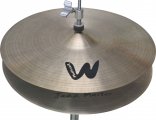 Masterwork Jazz Master Hi-hats

Masterwork Jazz Master Splash

Masterwork Jazz Master China
SHOP MASTERWORK CYMBALS - CLICK HERE!